CHARLIES PLACE AT THE WAGON WHEEL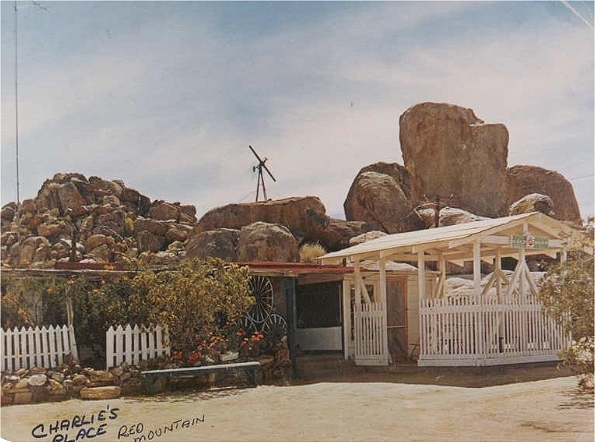 This is what Charlie's Place use to look like. The structure toward the back was a trailer where Charlie lived. The add on and Gazebo was the slab and this is where you did your eating and drinking. It's located about 200 feet east of Trona Rd at the entrance of what BLM now calls the Wagon Wheel off road staging area. All that remains are two concrete slabs. It is rumored that a mysterious fire burnt the structure down several years ago.
Charlie's Place was originally started by a woman named Alice who at the time in 1944 was married to a fellow named Bill Lewis. Alice and Bill were avid rock hounds and in 1943 started a business cutting and polishing gem stones and book ends. The business was called "NOTS Rock Hound Club" and was later renamed "Indian Wells Valley Gem and Mineral Society". It is not clear when Alice actually opened the beer parlor which she named "Alice's Wagon Wheel Beer Parlor". Alice lived at this location for her last 23 years.
In 1951 Bill died and eight years later (1959), Alice married Charlie Moore a machinist on the NOTS China Lake Base. They continued to operate Alice's Wagon Wheel Beer Parlor. In 1967 Alice died and the Wagon Wheel was shut down but Charlie reopened it a short time later. It was around this time that the State of CA mandated that you could not sell alcohol with out food so Charlie began serving sandwiches, soda, pizza and such.
Charlie remarried and continued to run the "Wagon Wheel Beer Parlor" but the locales just refereed to it as Charlie's. In the late 80s Charlie's second wife became quite ill and he move to Ridgecrest to be close to his wife who was now in the hospital. It was shortly after this that "Charlie's Place" burnt down.
Charlie's was a great place to stop and have something to eat and drink and as always some great conversation with Charlie. In this age of fast food stands, a place like Charlie's will never be seen again. It is truly missed by all who made this a stop on a days riding.
For those of us who where wondering why the area was renamed Wagon Wheel Off Road Staging Area by the BLM, now you know the whole story and kudos to the BLM for remembering Alice and her beer parlor.
Thanks to Dick Postma for this story!